Young-Adults Can Achieve is a program which assists students in Northern New Jersey with their dreams of continuing their higher education learning. The program was founded in 2003 with the goal of encouraging students to expand their horizons by exploring opportunities provided by attending college. 
We provide students with direct exposure to these schools, and offer college preparation activities and mentoring that will help them gain admission to these schools and succeed once they are there. Most of our students come from families that are likely less to be familiar with the college preparation and application process. By ensuring they are prepared academically, financially and socially for college, we help level the playing field for these students, allowing them to achieve their potential.
We were motivated to start this program based on studies which have found one reason for this disparity in college entrance and graduation rates is that minority young people are not as prepared, both academically and socially/emotionally, for the rigors of college.  In addition, they often receive less attention from college guidance counselors in choosing high school courses and potential colleges, and their parents have less familiarity with the college process. This lack of preparation leads to high drop-out rates, which can be devastating, especially in today's economy. Without a college degree, young people face limited career options and reduced earning power.  In fact, many studies have found that over their lifetime, individuals with a college degree earn nearly double the amount of money earned by those with only high school degrees.
We are committed to supporting our young people so they can attend and graduate from college, and lead successful, productive lives that maximize their potential. While on these tours we have the opportunity to look into these young people's eyes and see our next Forensic Scientist, Law Enforcer, Editor, Legislator, Doctor and possibly President of the United States. We see the change and inspiration in our youth and know there is a high demand for our organization in the development and progress of our community.
Each year we look forward to opening the door and leading our young people to outstanding centers of educational excellence. "Let's Send Our Kids to College!"
You can donate today via:
Paypal: https://www.paypal.com/donate/?hosted_button_id=RA9FKNG57F4ZG
Cashapp: $YoungAdultsAchieving
Mail: P.O. Box 168 Elmwood Park, NJ 07407
YAA Awards and Recognition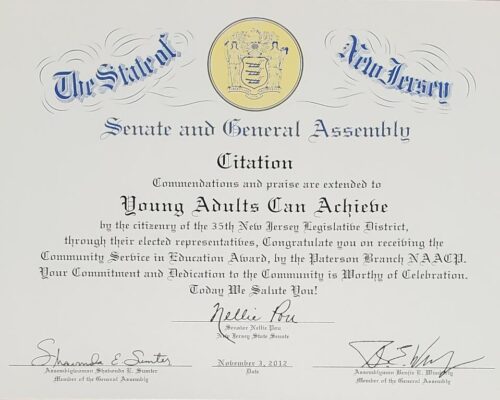 State of New Jersey Joint Legislative Resolution by Senator Pou, Assemblywoman Sumter and Assemblyman Wimberly
State of New Jersey Joint Legislative Resolution by Senator Girgenti, Assemblywoman Pou and Assemblywoman Evans
The County of Passaic Appreciation Award by the board of Freeholders
The City of Paterson Mayor's Award for Passaic County African American Women, Inc - Community Service
The State of New Jersey Senate and General Assembly Citation Commendations and Praise Award
City of Paterson Municipal Council Community Award
Certificate of Special Congressional Recognition by Congressman Bill Pascrell, Jr.
Certificate of Appreciation by Councilwoman Ruby Cotton
7th Annual Hats for Hope Community Service Award
The County of Passaic Board of Chosen Freeholders Recognition and Appreciation Award
County of Bergen New Jersey Certification of Commendation by the board of Freeholders
Members of Congress Certificate of Special Congressional Recognition by Congressman Bill Pascrell, Jr.
City of Paterson Municipal Council Citation - Community Service in Education Award
The Bergen County Board of Chosen Freeholders Certificate of Commendation
Certificate of Special Recognition for Voluntary Public Service by The Delta Sigma Theta Sorority, Inc. Paterson Alumnae Chapter
The State of New Jersey Senate and General Assembly Citation
Community Service in Education Awareness Award from the NAACP Paterson Branch